 Arcona 385
The new Arcona 385 continues to uphold Arcona's strong heritage of innovation and design excellence, using the finest materials and best craftsmanship without compromising on superior performance through the water. The Arcona 385 is a quick, lightweight and easy-to-manage 11.28m/38foot performance cruiser.
Her predecessor, the Arcona 380, was launched in 2013 and has won many racing accolades. The new exterior styling of the Arcona 385 provides increased natural light in the saloon and galley due to the new larger hull windows and new larger coachroof windows. There is also a larger instrument panel above the companionway to incorporate larger instruments for the helm.
The Arcona 385 will have an open transom as standard as not only does it allow more light into the cabin, but it also provides even more accessible stowage in the lazarette – a clear refinement from the Arcona 380.
The Arcona 385 reflects the quality expected from Swedish boat builders using the latest materials, advanced techniques and handpicked suppliers. Her lay-up, which incorporates a 20mm Divinycell foam core, employs the latest vacuum infusion technology. All bulkheads are bonded to the hull and deck for added strength. At the heart of the boat is the galvanised steel cradle, taking all the dynamic loads of rig, mast, and keel, ensuring that the boat is strong, stiff and responsive.
The side decks are wide and the cockpit is spacious with plenty of room for crew, family and friends. There are twin carbon wheels and the cockpit table is recessed into the cockpit floor.
Arcona yacht interiors feature consistently high-quality woodwork and practical storage designs in clever locations. The generous saloon has been carefully thought out for optimum entertaining purposes. Taking in the full 3.8m beam of the yacht, there is plenty of space around the saloon table and she has a spacious galley. The Arcona 385 has three cabins as standard however the option of two cabins with a separate shower is also available.
The choice of Khaya Mahogany or Scandinavian Light Oak interior and various other interior upholstery options are available as with all of the Arcona fleet. Assistance with choosing the best deckgear and sail wardrobe to meet with your sailing needs is also fully available from the Arcona team.
Hear what Theo Stocker from Yachting Monthly Magazine has to say about the Arcona 385 on test:

See the Arcona 385 sailing with the Arcona 465 Carbon:

Yacht Germany magazine did a test comparing a selection of 38foot performance cruisers and these published in 2022.
Click here to read the full Yacht Germany test  >>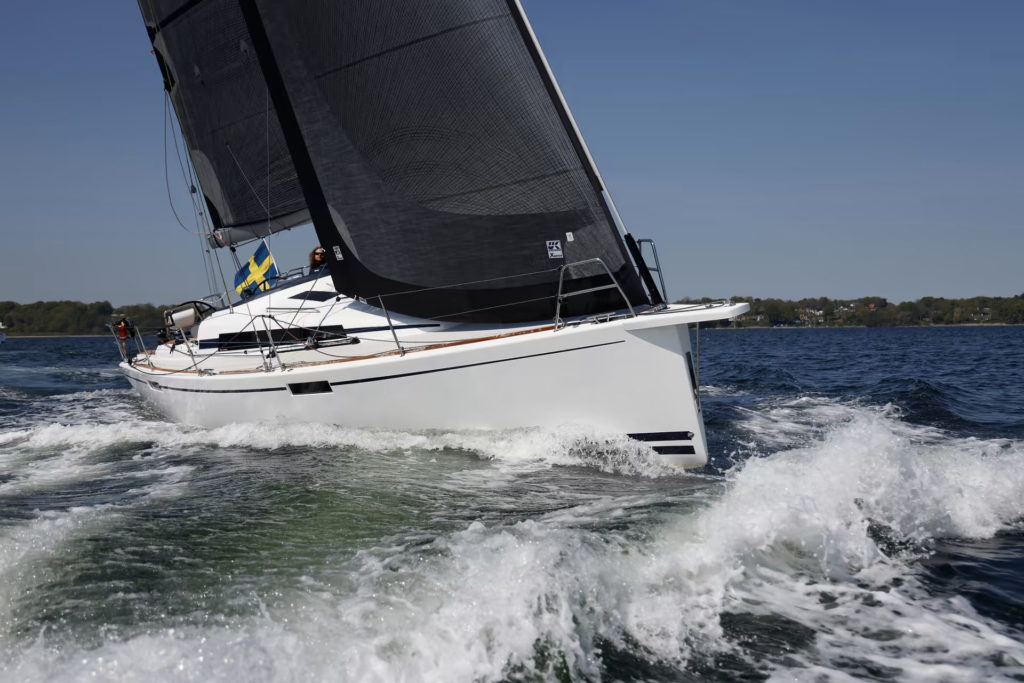 Photo credit: Yacht Germany
Download Brochure