A Liv(ely) update – Four days into the ARC!
25/11/21
The crew on board Arcona 400, S/Y Liv has had a flying start to their ARC, they are currently leading their class and are 10th overall in the cruising division!
The Liv crew for the ARC feature the Edholm family of five, Sanna, Jonas, Axel (14), Alma (almost 11), and Atle (almost 9), plus family friend, Martin. Here is a quick update from their first four days at sea!
First night: it is the first night on board since we started the ARC, and everything is a bit new and exciting, even though we got a pretty good dress rehearsal on the sail down to the Canaries.
Everything works on board, huge sigh of relief and the kids are behaving like seasoned offshore racers, sleeping on a schedule.
We got a great start with a nice upwind in light conditions along the eastern coast of Gran Canaria. Unfortunately, the wind died, and we had to use our engine – the forecast is really uncertain at the moment, so the navigation is quite tricky.
Day 2: Yesterday it was all about the sailing, but we lost a bit of focus today because the wind is nowhere to be seen. Instead we have been keeping busy with swimming, looking for sea turtles and poisonous jellyfish – the Portuguese Man of War (which incidentally isn't a jellyfish).
Right now the wind speed (which is an ironic adjective in this case) is about 1-2 knots and we are motoring. But as soon as there is the smallest gust, we will utilize the sails instead.
Day 3: During large parts of the day we had very little to no wind (in Sweden we would say "Styv Stiltje") but everyone is doing great on board and the kids constantly find new ways to entertain themselves.
We are finding our groove on board, although everything is pretty simple when there is no wind and no waves. The calm weather also means that we have been able to work on the boat quite a bit, do a mini service on the engine, start the water maker etc.
We have also been swimming a lot in the great big blue. Usually it is a very relaxing experience, but we had one occasion where everybody hurried up on the boat faster than ever before. The kids and Martin were in the water when we heard a whistling sound 10 metres in front of the boat – it was a 20-25m whale that decided to come and pay us a visit! It must have been curious because it swam closely around the boat in circles. After 15 minutes or so it seemed to decide we were not interesting enough anymore and swam away towards its friend and into the depths.
We'll admit it was a bit scary to have a whale that close to us when we had people in the water, but its behaviour was never hostile – it just seemed curious – so the overall experience was more exciting and cool, than anything else.
We are unsure what kind of whale it was – we're guessing blue whale – but have a look at the photo and let us know what you think (we have a video but can't send it until we are in St Lucia).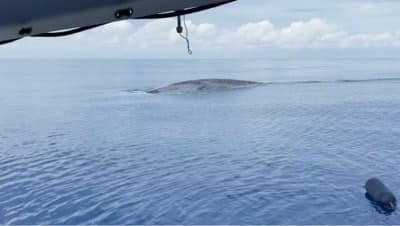 Day 4: Finally, some wind! Today the focus is back to sailing again and we were able to use the spinnaker that Martin brought from Sweden.
We have really got a good routine going: the kids take turns doing the dishes once a day, and we are recycling plastic, compressing small bottles/items it and collecting it in a big water jug. We have also settled into a watch schedule which we will keep for the remainder of the journey to get some consistency.
06:00-10:00 Sanna
10:00-14:00 Martin
14:00-18:00 Jonas
18:00-22:00 Sanna
22:00-02:00 Martin
02:00-06:00 Jonas
We have also started fishing! Even though we have only done it for a day Atle is a bit frustrated that we haven't caught anything – especially since we heard over the VHF that others have caught plenty.
Navigator Jimmy Hellberg's comment: the weather is still uncharacteristically fluky with quick shifts from no breeze to a lot of it – last night they had tough night with up to 25 knots of wind. This is a result of a small depression that has ventured quite far south and is battling the high pressure we normally see around the Azores. The low pressure will lose to the trade winds and the high pressure eventually and we will get more stable conditions, but from what it looks like, quite a lot more wind than you usually have.
Are you inspired?
For regular updates follow Arcona's Facebook and Instagram. Don't forget to follow @LivSailing on Facebook and Instagram too!
Other Arcona yachts participating in the Atlantic Rally for Cruisers (ARC) and the ARC+ (via Cape Verde) en route to St Lucia. Click here to track their progress >>
Keen to learn more about Arcona 400, Liv? 
Read all about their adventure:
Liv(e) a little
Liv(ely) preparations. What we did with the boat
Liv(ing) the Dream – Four months on board