Arcona 340 wins Class C in the ORCi European Championship in Norway
15/08/22
Three Arcona yachts raced in the ORCi European Championship held in Hankø, Norway, 5-13 August 2022 including Arcona 385, Ibb, Arcona 370, Bris and Arcona 340, Katariina II.
Following a strong start, the overall winner of Class C after eight races going to Arcona 340 Katariina II. Congratulations to the owners and crew.
In Class C on 13th August, the leading team had things well in hand for their ORC European Champion title, with two firsts, four seconds and one third place in their score line. With another bullet earned in the final race Aivar Tuulberg's Arcona 340 KATARIINA II (EST) has won their third Europeans title, the first in 2016 in Porto Carras, Greece and the next in Limassal, Cyprus in 2018. This is his first earned in northern Europe closer to his home waters in Estonia.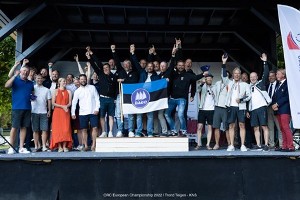 Tuulberg has been racing with a mixed Estonian-Italian team both in the Arcona and in his Swan 42 this season, the latter being based in the Med. This week his team (shown celebrating above) consisted of Lorenzo Bodini, Karl-Hannes Tagu, Peter Saraskin, August Luure, Joosep Laus, Tobias Reiter and Marko Lilienthal. When asked about this cultural mix on the team he said with a smile "In Estonia we have maybe six months of sailing. In Italy the season is much longer." About the ORC system's ability to produce fair ratings, he said "This is the best system. It produces close results when the teams are racing at a high level like this, we very much enjoy it."
Another winner over the race week was the weather: every day of the entire week featured near-perfect champagne sailing conditions of sunny skies and 8-18 knots of wind for six inshore and two offshore races. Coupled with the natural beauty of Hankø and the surrounding rocks and islands of the Oslofjord, this was truly a spectacular setting for this event.
𝗡𝗲𝘅𝘁 𝘆𝗲𝗮𝗿'𝘀 𝗢𝗥𝗖 𝗘𝘂𝗿𝗼𝗽𝗲𝗮𝗻 𝗖𝗵𝗮𝗺𝗽𝗶𝗼𝗻𝘀𝗵𝗶𝗽 𝘄𝗶𝗹𝗹 𝗯𝗲 𝗵𝗲𝗹𝗱 𝗶𝗻 𝗠𝗮𝗹𝘁𝗮 𝗼𝘃𝗲𝗿 𝟮𝟯 𝗔𝗽𝗿𝗶𝗹 – 𝟭 𝗠𝗮𝘆 𝟮𝟬𝟮𝟯.
Complete results can be found at: https://orc.org/ec22
Read final report of the 𝟮𝟬𝟮𝟮 𝗢𝗥𝗖i 𝗘𝘂𝗿𝗼𝗽𝗲𝗮𝗻 𝗖𝗵𝗮𝗺𝗽𝗶𝗼𝗻𝘀𝗵𝗶𝗽: https://www.orc.org
Photo credit: ORCi/Trond Teigen.