Arcona 380 Triarchy Race Success
13/09/23
Ariadna Pons-Forn, designer and naval architect of the Arcona 50, was crew on board SY Triarchy over the weekend of 8th September.
Ariadna said "It was great to join the Little Britain Challenge Cup last week. This corporate race has been running for 25 years with up to 268 entrants, taking part in it this year as 'SFA – Triarchy' team was fun and winning the race was even better!"
The Little Britain Challenge Cup – the property and construction industry's annual sailing regatta – is a two-day, 5-race series event organised by volunteers for the industry. IRC boats, sports boats, boat owners, and Sunsail 41.0 one design boats are all welcome. The regatta is dedicated to raising money for sailing charities who have been heavily affected over the past year as their funding channels have dried up due to the social and working restrictions caused by the COVID 19 pandemic.
This year's regatta will be held in West Cowes, and racing will be on the Solent, around the cans, with courses set in both the east and west of central Solent.  There will be plenty of opportunities to meet up with crews, friends and industry colleagues during the pontoon parties and at the Royal Ocean Racing Club in Cowes.
After cruising over the whole summer and before the racing season starts the owners and crew were eager to go racing, conditions were really light but the organisers managed to get four out in these conditions.
As for Arcona 380, Triarchy, it was a special event sailing the boat with only a crew of six people on Friday and three people on Saturday.
Although conditions were rather too light, the Arcona 380 managed to record two bullets and two seconds winning the event and showing the versatility and simplicity of the Arcona 380.
Arcona 380, Triarchy is now looking forward to the winter series in Hamble later this year.
Congratulations to the owners and crew on the results!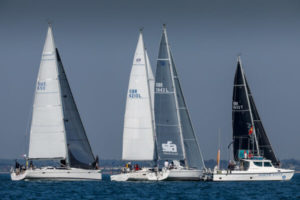 Photo credit: https://littlebritain.co.uk/