Gotland Runt 2022
30/03/22
There is record amount of interest in the 2022 Gotland Runt! By 29th March 2022, 295 boats have registered, of which 82 are part of the ORC Double Handed Worlds who are sailing at the same course at the same time. In other words, there are a few places left until the set limit of a total of 300 starting boats so register now.
The 2022 Gotland Runt takes place on 30th June – 6th July.
Last year, interest in Gotland Runt was record-breaking. But the uncertain situation in the ongoing pandemic meant that many boats and especially boats from overseas could not get to the start and the number of participants was about 180 boats.
This year it is about even greater pressure to get a place for the iconic regatta. In addition, the first ORC Double Handed Worlds will be arranged as part of Gotland Runt, which of course pulls even more boats.
In Gotland Runt Offshore Race, the 214 entered boats come from 13 nations and the distribution between the classes looks like this:
– 138 Full Crew (SRS)
– 43 Full Crew (ORCi)
– 16 Double Handed (SRS)
– 6 Multihull (SRS)
– 8 Classic class (SRS)
In ORC Double Handed Worlds, the 82 registered boats come from 11 nations.
If the number of entries exceeds 300, the organisers, KSSS Information Committee, will establish a reserve list. Historically, not all registered boats will start and therefore there are quite good chances to participate even though you initially end up on the reserve list.
Find out more here: www.gotlandrunt.se
It's great to see so many Arcona yachts registered so far!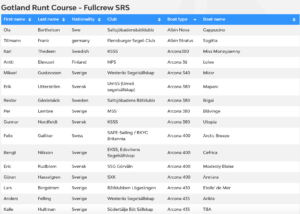 We'll see you there!